I don't often post fundraisers on the directory, but I have two local families dealing with serious issues and serious needs.
First up is my friend and former student Linda Warren. I had the honor of teaching not only Linda but two of her adult sons, as well. They are a lovely family, and when one of her son's faced a serious crisis with his wife, Linda and two of her of other sons stepped in to help with the six kids. She has brought them to live with her and they range in age from under 1 to 9 years old, all with issues. Linda dropped out of school to take care of her six grandchildren, but doesn't have the appropriate transportation to get them around to all the appointments they will be going to as she works to get them assessed and into appropriate treatment.
From her
Gofundme page:
Transportation for Grandchildren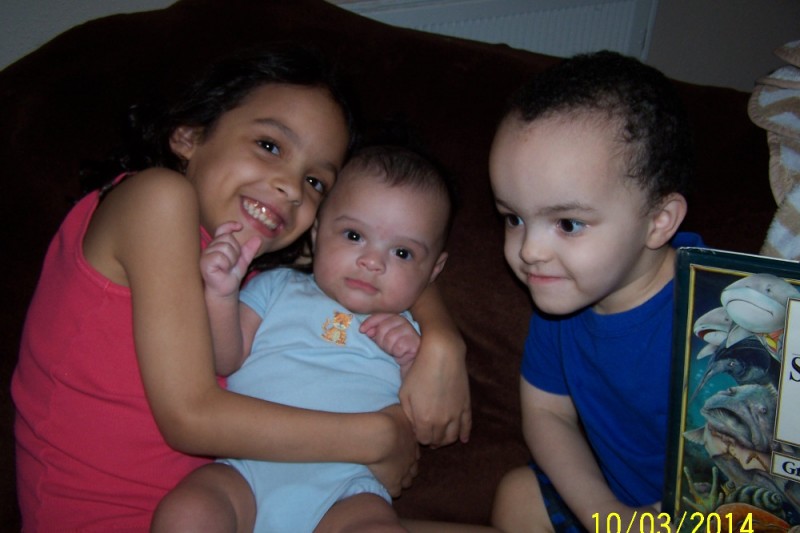 Created March 9, 2015
Linda Warren
I recently got custody of six of my grandchildren when their mother tried to commit suicide. The children have not lived a normal life. Because their mother has severe mental illness, they have lived in a dark house with shades drawn for most of their lives. They have rarely had the opportunity to get outside and at least three of them have special needs. Some have mental disorders. Some have physical problems. None of them have adequate social skills. To remedy this I need transportation that will seat them all safely.

I want to change their lives for the better, but I have an old Chevy Classic and do not have a way to get them around. I cannot even take them all to the doctor, because they are ages 10 months to 8 years old and three of them require car seats.

They need to be assessed for disabilities. They need to be in school. Last year they missed five months of school. They need to play at the park and go to the doctor and dentist. Two of them need help with orthopedics.

I have to ask for help because I don't have a way to upgrade my vehicle. Having decided to go back to college myself, I was enrolled but now have to withdraw. I love my grandchildren, but they need help, and I am going to be there for them.

I don't want a new vehicle. I'm not asking for that. I would like to buy a used Ford transit vehicle that will seat them all. I live 15 miles from services that will help my grandchildren. I need to get them there safely.
Our community is one well aware of the cost to raise special needs children, and I hope you will help this family. I have, and I wouldn't ask you to if I didn't believe in the need and know what a difference having a vehicle big enough to transpost these six children at one time would make.
Family 2:
Lyla Grace Santos
The second family I'm asking for help for is another local family. The father works at the same place as my husband and the family are cousins to a childhood friend. I've been following baby Lyla's story for almost a year now and helping when I can.
Lyla needs a new heart. She is at the top of the transplant list and was just released from the hospital and she and her family are staying at the Ronald McDonald House by the hospital three hours away from home until Lyla receives her new heart. The bills are piling up, so please consider
assisting this sweet young family.
From her fundraiser page:
About This Campaign
Lyla Grace Santos was born March 18, 2014. She was born with Cognitive Heart Defect. After she was a week old on March 25, 2014, Lyla Grace had to have open heart surgery to correct her aortic arch. She was then put on the heart transplant list and would eventually need a new heart. Almost a year later and after many heart cauterizations, Lyla Grace has been moved from being listed a 2 on the bottom of the heart transplant list to the top of the list as a 1A emergency. Lyla Grace needs a new heart. Her heart is no longer able to be fixed with heart cauterizations and medicine. Now that she has been moved up to the top of the list in Dallas, Texas, her parents Matt and Amy are unable to be more than two hours away from the hospital just in case a heart does come in for Lyla. Matt and Amy lives more than three hours away in Abilene, Texas. Matt was recently released from the Army due to medical in September 2014. Where he served three tours altogether while in the Army. So as of March 1, 2015 he will no longer get medical insurance from the military. Amy has been unable to return to work due to Lyla's condition. Matt and amy will need help with hotel, food, and other necessities being so far from family and friends. After getting the news of their baby girl needing a new heart, the last thing they need to be concerned about is money. Please if you can help this family with donations and always prayers. Please pray for Lyla Grace and her family. Thank you and God bless all of you. X X X
Please give if you can and share this post. Make it go viral. These families' needs are great, and we are a large, caring community. Let's welcome them to our community and show that when we see a need we move to fill it.
Thank you,
Kim Wombles